Postcard Rec: Heart Berries
And the uses of bibliotherapy
Hi all,
One of my favorite historians/podcasters, Mary Mahoney, gave a Zoom talk recently about bibliotherapy: the idea that reading can be healing. (In essence, the academic term for finding the right book for your experience at just the right time.) I wish I had a story like that to recommend this month, but alas, I have no new epiphanies to share. August involved a lot of comfort re-reads as I dug through all the books I had stored at my parents' house (we drove to see them and the mountains for a few weeks, keeping our bubble as safe as possible). But revisiting a book can be therapeutic, too; it's a chance to see how you've changed, even as the words on the page have stayed exactly the same. To measure yourself against the faded pencil marks on the wall and discover that you have somehow grown taller and, hopefully, wiser.
Many books that I felt and loved deeply at one time I see and critique in different ways now. My relationships to them may not be as straightforward any more, but I appreciate these slow revelations because this is how we grow and learn to accept the complexity of conflicting thoughts and feelings. Epiphanies are great and all, but most of the work of change is a slower, quieter process of simultaneously wearing down old ideas and building up new ones.
Bibliotherapy is part of this process: recognizing yourself in others, in stories, can be healing and essential. As Joan Didion said, "We tell ourselves stories in order to live." But as Mary Mahoney added, "Books have never been the sole cure for anything, ever." Perhaps that's why I don't like thinking of books and stories as a prescription. To me, they're more like food: vital for survival, but imbued with (and for) infinite tastes. I recommend books not because I think they will cure someone of their particular issues, but because this particular experience, this flavor, is truly exquisite. Almost any food or story will keep you alive, but only some will nourish you.
In reading/telling stories and passing them on, we keep nourishing ourselves and others, learning how to live, relate, die, and repeat. I can't tell you if there's an ultimate point to it all, but it does seem to ease the regular and irregular pains of life. And anyway, I'm not here to tell you what the point of life is. I'm here to recommend a book.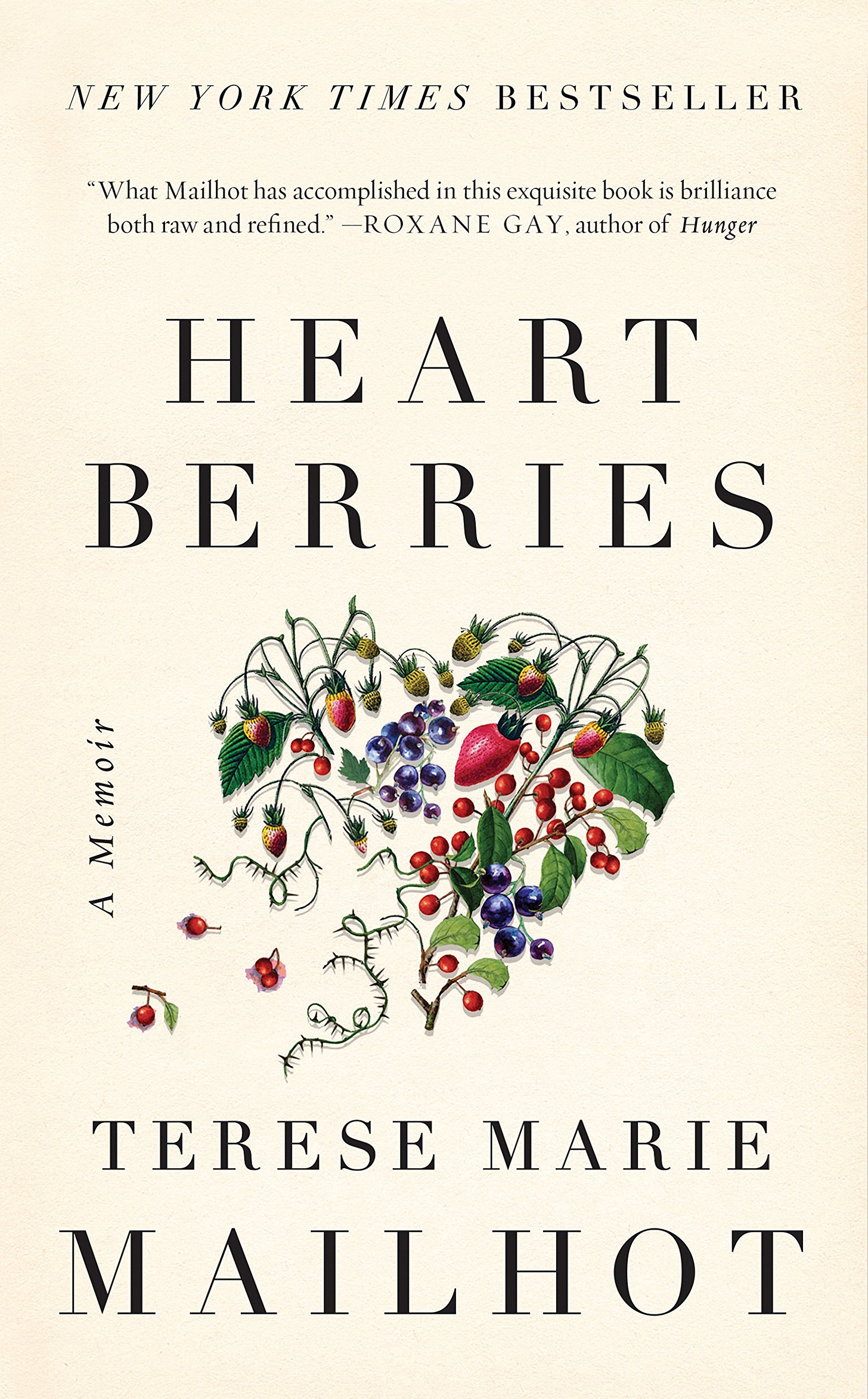 Even though it's only been a year or two since I first read Heart Berries, I wanted to revisit it because it's such a deeply felt narrative. If you're ready to feel the raw honesty of someone articulating their deepest-felt thoughts and emotions, I can't recommend this book enough. Mailhot cuts to the heart of, among other things: power, grief, identity, mental health, class, race, inter-generational trauma, dysfunctional parenting, abuse, and the intimate devastation of relationships. Speaking of holding complex feelings.
Heart Berries is an intense, poetic memoir in which Mailhot examines her life and relationships through her experience of mental illness and its treatment. The narration swings between time and place but is woven together beautifully, reflecting the real-life jumble of memory and emotion evolving over time. Mailhot's voice is clear and unsparing, never maudlin (it annoys me when people assume that an emotional memoir must be morose). I kept pausing to chew over powerful lines, though her storytelling kept on moving unrelentingly.
When I first read it, I was drawn to Mailhot's perceptions of her illness' impact on others and her observations in an inpatient institution. I cracked up over the lines: "I go to group therapy. It is quite intense, because holy shit there are a lot of women in the group who can articulate why they are here." This time, I found I had tugged out more quotes about power, grief, and inter-generational trauma. ("She knew that [story] was my power, and she knew women need their power honed early, before it's beaten out of them by the world.") As an Indigenous woman from Seabird Island Band, Mailhot's observations on power dynamics are incredibly salient. While I'm not qualified to delve into the Native issues she grapples with in the book, I can say that her expressions of the effects of centuries of trauma and erasure are raw, relatable, and essential. Which also serves pretty well as a summation of this book.
If you like it:
Try In the Dream House, Carmen Maria Machado's memoir of her abusive relationship that I devoured earlier this year. I've admired Machado's work since her short story collection; this is yet another fantastic mix of the Gothic and the real that draws vital attention to the existence of abuse within queer relationships. The way she structures it, moving from room to room in a house, building the horror of discovery in a place that is supposed to be safe, is brilliant.
If you don't:
Bibliotherapy does not require memoir; fiction has also taught me an incredible amount, but it's harder to recommend 'therapeutically' without knowing someone's tastes and experiences. (Do you need to sob over a story of heartbreak, or do you need to come to terms with aging and decades of family drama? You tell me.) If you're looking for something more upbeat that still teaches you how to grapple with universal problems like family, money, class, and human imperfection, I recommend the deeply funny and fast-paced Nothing to See Here, by Kevin Wilson. It's about twins who spontaneously combust when they get angry and their caregiver who has to literally put out their fires without stamping out their spirit.
---
Things I've written lately:
"Emotion and Light Put Together": an LA photographer captures protests and peace, Hyperallergic