Postcard Rec: Enchanted April
Yes, I know it's May.
Hi all!
For my very first postcard recommendation, I'm sharing one of my all-time favorites: Enchanted April, by Elizabeth Von Arnim. With sly humor, she tells the story of four women who rent a castle in Italy and are transformed by the experience.
Every time I read this book, it transports me. Not just to a castle in Italy, although that would be spectacular enough, but to a world filled with beauty and love. The picture Von Arnim paints is not the shallow gloss of a luxury magazine or a slick TV production. She writes with a deep understanding of the world, offering beauty and connection as antidote to pain, comfort for hurt, and source of peace and meditation at any age. (The characters range from their late twenties to sixties.) The sonorous descriptions practically demand to be read aloud. Von Arnim's obvious love for the place and characters she describes will make you fall in love, too. Reading it now, as an escape during lockdown and travel limitations, is a particular balm.
I recommend taking your copy outdoors, where you can read it while lounging in the sunshine, or if the weather is still snappy where you are, in the coziest corner you can find.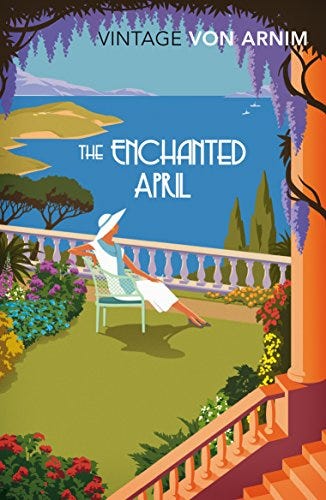 If you like it:
A Room with A View by E.M Forster. I'm sure it's unsurprising to any of you how deeply I enjoy the niche genre of "repressed British people finding themselves in Italy."
If you don't:
Try the frank realism of Three Women by Lisa Taddeo. It also follows several women through their life experiences, but unlike the veil of sparkling sunlight through which we see the women of Enchanted April blossom, Taddeo's finely observed account deals with the complexities of contemporary sexuality and the gray areas of love.