Postcard Rec: Power
A poem by Audre Lorde and an excuse to wax poetic.
Hi, all.
You may be exhausted by reading lists and recommendations by now. You may have been exhausted long before now, by the weight of knowledge and the continued lack of progress on many fronts. You may be infuriated by people who are still asking "what can I do?," or by people not asking it enough, or you may be just learning to ask it yourself. So this month, I offer you a poem.
Power
, by Audre Lorde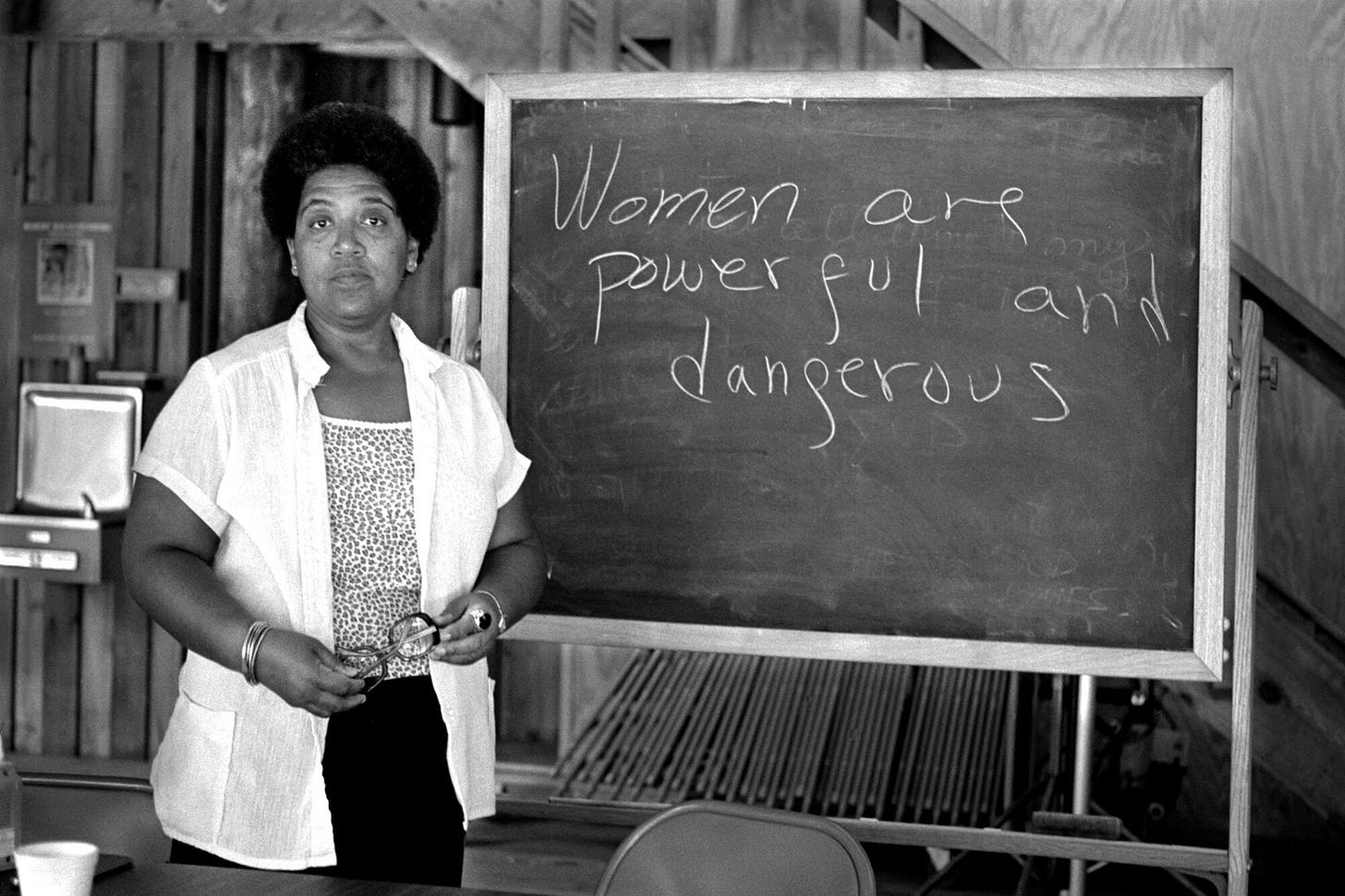 Photo Credit: Robert Alexander/Getty Images
It could be any poem that suits your mood, but I recommend this one by the inimitable "Black, lesbian, mother, warrior, poet" Audre Lorde. I hope you read it, feel it, and carry it with you (TW for violence). I hope you recognize the continuity of history and experience in it. And maybe even seek out another that speaks to you in this moment, like Say Thank You Say I'm Sorry by Jericho Brown.
To me, poetry is one of the most potent ways we communicate. It has always been one of my favorite methods of connecting with people, and with emotions I've otherwise fought to find words for. How else could I have endured the literal re-opening of an old scar this past month (twice, but who's counting) without Gwen Harwood's Wound? Or crafted my sense of the temporality of love or the complexities of progress without ee cummings? Think of the absolute exhale of Mary Oliver's sentence, "You do not have to be good." ("You only have to let the soft animal of your body / love what it loves.") Poetry is healing. But healing requires pain; it requires feeling and facing things you'd rather not.
In that sense, poetry is radical, too. Because, as Lorde writes, in a society that prizes dehumanization, productivity, and profit, "our feelings were not meant to survive." The work of healing—of poetry—is feeling those suppressed emotions and turning them into action and change.
So poetry is power. Its expression reminds us of the universality of emotion, and of how urgent it is to recognize that oppression, rage, sorrow, joy, and love can be communicated, related to, and transformed. As Lorde says, "Poetry is not a luxury. It is a vital necessity of our experience."
If you like it:
Read Sister Outsider, a book of Lorde's essays that I consumed this month and whose lessons I am trying to instill in every action. I chose to recommend a poem because Lorde describes poetry as her first language, but every word of her arguments is worth reading. I'd start with Poetry Is Not a Luxury (the essay I quoted from above), Age, Race, Class, and Sex, and The Master's Tools Will Never Dismantle The Master's House. All short and potent pieces.
If you want to expand your poetic horizons, try The Cinnamon Peeler, by Michael Ondaatje (the titular poem or the entire collection—both are beautiful).
If you don't:
If you prefer to ease your way into poetry, try The Long Take by Robin Robertson, in which an unmoored WWII vet drifts through the postwar, L.A.-noir landscape. Call it a narrative poem or a novel with a lot of line breaks.